Back to Records Available
ALMSHOUSE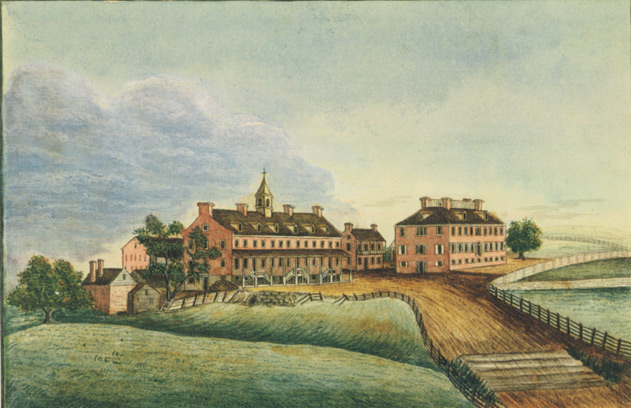 Views In The Borough of York & Vicinity Taken in the Year 1830 by W. Wagner. York, PA: The Historical Society of York County, 1996.
The York County Almshouse
The original York County Almshouse, also called the poorhouse, was built in the early 1800s. Originally the poor were cared for by each individual township or borough. In 1804 the Pennsylvania Legislature gave county commissioners the ability to create a tax to purchase land and construct buildings to care for the poor of the county. In 1805, a 150 acre tract of land called 'Elm Spring Farm' was purchased. That same year, the first structures were built on the property. The brick hospital was constructed in 1828. The Almshouse was managed by the Overseers of the Poor and later by the Directors of the Poor or the Institution District. A law in 1883 required that children who did not have mental or physical disabilities could only reside for 60 days. After that time children could be bound out as apprentices or indentured servants. This practice was allowed until 1927. Children could also be placed in foster homes. Both indigent and persons classified as insane were admitted to the Almshouse. The insane were later transferred to the State Mental Hospital in Harrisburg. The Almshouse also gave temporary shelter to vagrants, which at that time were called tramps. With new laws for State and Federal Welfare created after The Great Depression, the Almshouse has changed from a poorhouse to a nursing and rehabilitation center. It currently operates as the York County Hospital and Home.